Bill Gates' Game of Thrones Paves Way for the Toilet of the Future
The words "toilet" and "Bill Gates" rarely come together in the same sentence, unless of course the conversation turns to Windows ME. Buggy operating system aside, it may only be a matter of time before the last name Gates is forever associated with a new, cleaner, cheaper, and much more sanitary way to flush. And the crazy thing is, the result could save millions of lives every year.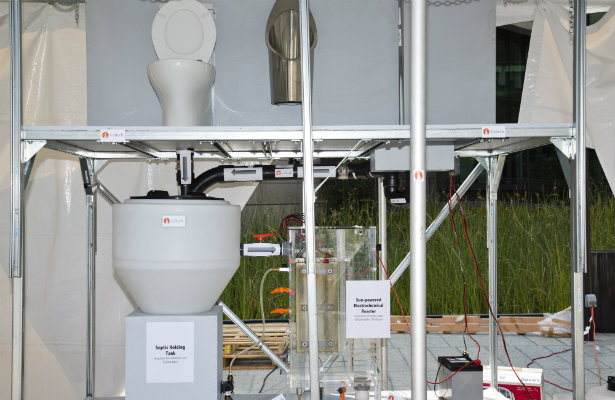 Last year, the Bill and Melinda Gates Foundation launched a competition called "Reinventing the Toilet" in which $3 million in grants were given to eight participating universities. The overall aim of the project is to help bring affordable sanitary alternatives to third world countries where having flushing toilets isn't even an option. In many of these places, which lack the sewage infrastructure and water needed, the majority of people simply take care of business wherever it's convenient. This can lead to the rapid spread of perfectly preventable diseases. Estimates say that 1.5 million children die every year as a result of illnesses that result from lousy sanitation.
Ever the optimist, Gates believes that there's got to be a better way to go – and recently, the winners of the "Reinventing the Toilet" contest were announced. Their initial challenge: to come up with a design for a toilet that could not only get rid of human waste without a piped-in source of water, but that could also harness that waste to produce energy and clean water. As if that weren't enough of a challenge, three additional criteria also had to be met: the design had to be easy to install, easy to maintain, and cheap to operate. Real cheap. We're talking $0.05 per day, per user. In August, winners of the competition were announced.
First place and a prize of $100,000 was awarded to the California Institute of Technology for its design of a solar powered toilet that breaks down water and waste into fertilizer and hydrogen, which in turn, is capable of charging hydrogen fuel cells.
The UK's Loughborough University took second place and a prize of $60,000 for its innovative invention that turns human waste into biological charcoal, minerals, and – yes – clean water. The third place prize of $40,000 was awarded to Toronto University, for its development of a toilet with a crank-powered solid waste processor and solar-powered UV light to produce clean water and "human fertilizer."
The next step in the project, toward which the Gates Foundation has reportedly pledged a total of $370 million, is giving yet another round of grants to four more organizations. Totaling $3.4 million, the new grants were awarded to Cranfield University in the UK, Eram Scientific Solutions Private Limited in India, RTI International in the United States, and the University of Colorado at Boulder.
The Gates Foundation plans to field test all winning prototypes and to have at least one in use in a third world country community by 2014 or 2015. Gates also believes that some of the designs on offer may eventually be put into use elsewhere throughout the world, not only in developing countries. "If we do it right," Gates said, "there's every possibility that some of these designs would also be solutions for rich and middle-income countries."