CES 2013: Going Hands-On (Eyes-On) With Sony's 4K TVs
Little did they know what Sony had up its sleeve.
Starting with an 84-inch, $25,000 dollar TV that made its debut in the fall of last year, Sony has brought us into the next generation of HD with 4K TVs. And now, the company announced two smaller displays at CES, a 55-inch model and a 65-inch model, in the hopes that their more affordable price tags will help encourage consumers to make the leap.
For those who aren't familiar with the technology, 4K derives its name from the fact that it's approximately four times the resolution of what we know HD to be right now (1920 x 1080), with 4K TVs therefore sporting roughly 4,000 (4K) pixels across horizontally. It's a technology that's still in its infancy, but Sony has helped with the shift into this new form of high-res by, for example, introducing 4K cameras to the film industry; if you've been to the movies anytime recently, you may have noticed that before the film starts, it says that it's being presented in 4K resolution. As one Sony rep put it to me, they don't just make the 4K television sets, they're also "the content creators."
At four times the resolution of standard high-def (forgive the oxymoron), both of the TVs, needless to say, looked unbelievable. The 55-inch and 65-inch models were shockingly bright and I was blown away by how vibrant the colors were. During the sizzle reel that Sony was running to show off the sets, there was a shot of an iguana in which the colors popped so strongly it almost hurt my eyes.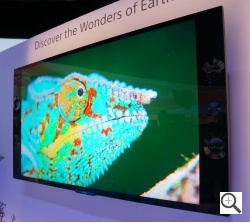 Their builds were quite attractive, as well. The displays were lined on either side by surprisingly powerful speakers, and the TVs were, all things considered, very slim. That's not to say that it's going to be terribly practical to find a place to fit such massive sets somewhere in your home (though at least these give apartment dwellers a chance, unlike the 84-inch model), but the dimensions definitely offer good wall-mounting potential.
But while there was plenty to like about the TVs, the highlight was obviously their sharpness. The clarity was fantastic, and what was even more incredible was that a lot of what I was looking at wasn't even native 4K content; it had been upscaled to 4K from 1080p. As a side note, I was also impressed by how wide the viewing angle was. Even from a steep angle off to the side, I could see the TVs' images very clearly.
The only issue I had — and this could very well have to do with the quality of the videos they were playing on the sets — was that I could see a fair amount of grain in some of the images, even when standing at a reasonable distance (say, six or seven feet). All I could think of was how even my set at home isn't that noisy, but again, I'm hoping that I could just write it off to the video selection.
4K Content Plans
So Sony certainly has the TVs covered, but what about all that "content creators" business? Sure, there are some movies coming out into theaters now that have been shot in 4K, but frankly speaking, there isn't exactly a wealth of 4K content for the time being, at least not for home viewing. The Sony rep that I spoke with about it, however, maintained that the company is "committed" to creating as much content as possible for users to enjoy on their higher-than-high-def televisions.
It's not much, but Sony will begin by releasing digital copies of 10 movies "mastered" in 4K later this spring, and they will also be available via Blu-ray (which will be playable on existing Blu-ray players as well). The digital copies of the movies will be on Sony's media server/set top box, which shipped with the 84-inch set.
The 4K movies will be made available to the smaller sets via an updated version of the media server, a prototype of which was present at the show. While the older version takes on an appearance of a PC tower, the new 4K box has a more compact form factor, but still connects to the TV via HDMI.
There's other 4K content on the media server at the moment, but it's nothing significant. There are a handful of indie films on there, as well as simple eye candy clips, about 20 in all. But there's more on the way, and as Sony's library of 4K content is updated, the company plans to send out Blu-ray disks to media server owners, who then need to pop it into their device to get the content update. It seems like a slightly clumsy — albeit dedicated — way for Sony to go about issuing content updates, though it's nice to see that the company will be ensuring that those who invested in 4K will get as much content for it as possible, as soon as possible.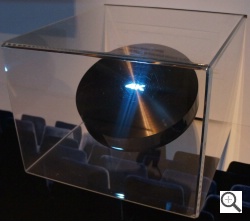 Of course, movies aren't the only form of media, so I inquired about other 4K opportunities. The rep I spoke with was generally tight-lipped about Sony's future plans, but when I asked about 4K TV programming (of which there is already a small amount; certain parts of football games, for example, are currently being shot with 4K cameras), he said that it was "definitely in the works," both as part of download and streaming services. I also asked about 4K gaming, which he said is "an avenue we're looking at. Definitely, yes."
For the time being, even regular content that isn't specifically designed to be viewed in on a 4K display will see an upgrade. Users can also enjoy any of their Blu-ray movies in an upscale format (up to 2K, or roughly twice the resolution of normal 1080 HD), while Sony's Triluminos tech expands the color gambit from any native TV signal. Even the 3D quality is improved, with the passive 3D tech on these 4K TVs giving users a full 1080 HD resolution image in 3D, whereas Sony's older 3D TVs could not (and yes, they can still do SimulView).
The release for the 65- and 55-inch 4K TVs is just around the corner, with plans to ship late spring, but Sony is not providing any pricing information just yet (though they will obviously be cheaper than the $25,000 84-inch set). As far as the media is concerned, it may be a slow start, but at least Sony seems to making an earnest effort to come up with as much 4K content as it can for now. It's not unreasonable to chalk up any shortcomings to the same growing pains that any new technology goes through, and this isn't a gimmicky idea that will fail to catch on because it's unnecessary or a matter of preference (looking at you, 3D, as you're being forced down our throats). People will always want a sharper picture, and 4K can give them that.