Indulge In This: Technology to Help You Lose Weight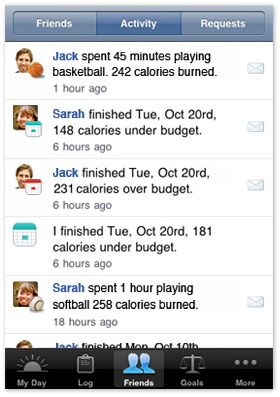 There's a ballooning segment of the population turning to social media, digital gadgets and a smorgasbord of apps for weight loss. But, does all the score keeping, calorie counting, meal tracking, challenges and rewards, digital monitoring and mentoring deserve a seat at the table when it comes to serious strategies for weight loss?
Maybe.
With little definitive data about the role of technology in weight loss, that's the answer for today. Tomorrow is a whole other story. That's because there's a tremendous amount of interest in using technology to spearhead change in weight loss efforts and it's being equally matched by zealous entrepreneurial innovation.
Not to mention the millions of users who digitally track their meals, steps, stairs climbed, calories burned, and challenges met. Weight Watchers Mobile reports 2 million online subscribers, Lose It! counts 10 million downloads of its weight loss app and 2 to 3 million active subscribers, and MyFitnessPal reports over 20 million downloads. On top of that, there are hundreds of other weight loss and fitness apps out there.
Meg Fontecchio, a 40-something working mother of two and admittedly, a life long Weight Watchers member, uses the Weight Watchers Mobile app and MyFitnessPal in tandem.
"I use MyFitnessPal's gigantic searchable food database for tracking and to help input points on Weight Watchers Mobile. I also share MyFitnessPal with a community of eight people who are family and friends – some local to New England and

others in the Midwest. We share diet and exercise diaries and keep each other accountable," she says.
Unlike finding herself at a Weight Watchers meeting where familiar faces come and go, her MyFitnessPal community is familiar and loyal. Better yet, Fontecchio attributes her community to being able to keep the weight off for a longer period of time than ever before.
"We're there for each other and feedback is instantaneous," she says. Fontecchio has been on forever quest to shed and keep off 20 to 30 pounds.
Massive Challenge
With the obesity rate for adults in the U.S. at a rotund 35 percent, and 17 percent for children according to the Centers for Disease Control and Prevention, it's no wonder there's an incredible amount of clamoring on the topic.
Industry experts seem to agree that if online social communities, digital gadgets and diet and fitness apps become the daily fix that keep people moving their mass, that's no snake oil.
"We estimate that about 10 percent of the population, i.e. fitness buffs and quantified-selfers, are motivated by seeing data and use it to compete with themselves to move forward or make change," says Dr. Joseph C. Kvedar, founder and director of the Center for Connected Health at Partners HealthCare. "For the rest of us, it requires a layering on of motivational tools – coaching and reminders, games, incentives and rewards, and, a social network – to inspire change," he adds.
Taking the weight off and keeping the weight off are two entirely different things. "We've been wildly successful with the former and wildly unsuccessful with the latter," says Dr. James O, Hill, director of the Center for Human Nutrition and executive director of the Anschutz Health and Wellness Center on the University of Colorado Anschutz Medical Campus.
What Hill, a cofounder of The National Weight Control Registry established in 1994, has learned from research findings about successful weight loss and maintenance after tracking 10,000 individuals is this – most members report continuing to maintain a low calorie, low fat diet and doing high levels of activity. Also,
•    78% eat breakfast every day
•    75% weigh themselves at least once a week
•    62% watch less than 10 hours of TV per week
•    90% exercise, on average, about one hour per day
"The digital tools, the apps, etc, they're great if they help people adopt the right strategy," he says.
Hill is a disclosed, advisory board member of Retrofit, a one-year old company dedicated to permanent weight loss that combines digital tools and human expertise.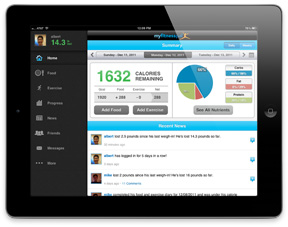 Company founder and CEO Jeff Hyman acknowledges the tremendous breakthrough in digital tools. "We use all of the above in a unique way to drive sustainable results," he says. "Our goal is to turn data into useful information."
Using a data-driven approach, Retrofit clients monitor their activity using the Fitbit Ultra clip on tracker and the Fitbit Aria Wi-Fi body composition scale. The information is delivered to an online dashboard. Clients also get private weekly video conferencing sessions via Skype with a team of three wellness experts – a registered dietitian, a behavior coach, and exercise physiologist.
As of this summer, all clients can access their online dashboard via iPhone or iPad.
The Retrofit promise to clients is 10 to 15% weight loss through the end of the 12-month program. "Ninety-four percent of our customers lose weight. Two thirds are on track to lose at least 10%," says Hyman.
Will technology be a game changer for weight loss? Time will tell. Industry experts and frustrated dieters are optimistic but this game has only just begun