The Apple iPhone 5 is Coming, Here's What You Need to Know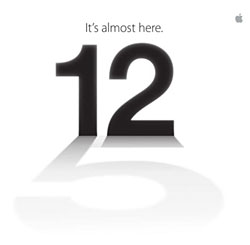 Once again, the world is a stir over the impending release of the iPhone 5. With a press conference scheduled to take place in San Francisco on September 12, the rumor mill is operating in full swing and the only thing that is confirmed is that nobody really knows what Apple's got up its sleeve. Of course, now that your curiosity is piqued, it would be borderline criminal to leave you hanging there – so we've rounded up a list of some of the most persistent rumors to give you an idea of what might go down at the September 12 Apple press conference.
The Unveiling of the iPhone 5 and a Release Date
Surprisingly enough, not even this much has been confirmed, but with Apple itching to pull the trigger on new and improved smart phone technology in the wake of its U.S. courtroom win over Samsung at the tail end of August, there's a high probability that both will take place. Wild speculation indicates that Apple may reveal September 21 as the actual release date of the iPhone 5, getting a major jump on the rapidly approaching holiday shopping season.
Low iPhone 5 Pricing: iPhone 5 vs. Samsung Galaxy S III
Experts say that iPhone 5 pricing will have to stay low enough for Apple to remain competitive with their primary nemesis, Samsung, and its incredibly popular Galaxy S III. It's rumored that iPhone 5 prices will probably stay consistent with those of the iPhone 4S, which went for $199 for 16GB, $299 for 32GB, and $399 for 64GB models, all with a two-year carrier agreement.
A Probable List of New iPhone 5 Features
Everyone knows full well that it would be no fun for anyone for another iteration of the iPhone to be released without some major physical changes. Here are some of the most talked about, rumored features (both internal and external) of the iPhone 5.
A higher quality front-facing camera. Although vast improvements have been made with respect to the quality of the iPhone's front-facing camera, there's always room for improvement. Some rumors tell us that the iPhone 5 could come equipped with an HD-quality front-facing camera.
A smaller dock connector. This may come as an unwelcome "improvement" that could force those with speaker dock systems to either upgrade their equipment or sink a few dollars into an adapter. Leaked iPhone 5 photos have shown that the days of the 30-pin connector (which have been around since the release of the original iPod) are coming to an end.
A bigger screen. Considering that one of the disadvantages of owning an iPhone is a screen size that's not quite up to snuff with the competition, it's highly probable that the iPhone 5 will boast a bigger display. If you believe the authenticity of photographs of the iPhone 5 leaked recently, expect to see a longer screen that actually reaches a full four inches, up from 3.5 on every previous iPhone.
A thinner body. The inclusion of "in cell" touch sensing could make some drastic improvements on the iPhone's bricky girth, making it the thinnest and lightest iPhone to date.
4G LTE, at last. You don't exactly have to be a futurist to see this one coming, although with Samsung poised to strike back at Apple for possible violation of their LTE patents, this development could make things interesting indeed. For consumers, the inclusion of 4G LTE would be a boon that would likely improve battery life significantly.
The iPhone 5 May Share the Stage
Stranger things have happened. Some rumors have suggested that Apple is considering striking while the iron's hot by not only releasing information about the forthcoming iPhone 5, but also about its line of iPod Touch products, including the Nano and Shuffle. With aforementioned rumors about a smaller dock connector on the iPhone 5, it's highly probable that changes to the Touch, Nano and Shuffle will include similar alterations. Other iPod rumors include a taller, Wi-Fi enabled iPod Nano and a broader array of available skin colors.
No iPad Mini
As much as we hate to burst anyone's bubble – especially those following every move that Apple makes in eager anticipation of the release of an iPad Mini – rumors have begun to wane that September 12 will be the day the world learns anything about a shrunk-down iPad. But don't lose hope. There's still plenty of time between now and Black Friday for another few Apple press conferences.
iOS 6 and Beyond
Whether any of these rumors prove true or just wishful thinking, September 12 will almost certainly be the date on which Apple launches iOS 6, or at least announces when it will be available for iPhones and iPads.