What are the Best Smartphones?
Spring has sprung, and with it comes a new crop of smartphones all vying for market dominance. The two latest and greatest are the HTC One and Samsung Galaxy S4, both now available on multiple carriers. But just because these handsets are new, does not mean these handsets are the best. The top three smartphones on this list remain unchanged from last month, and now represent excellent values as retailers and carriers slash prices to make room for the new.
The next few months will see the release of the LG Optimus G Pro Android smartphone, rumored Nokia 928 Windows Phone handset, and the mysterious Motorola and Google X phone. Those will undoubtedly shake the market. But for now, the following is a list of the top five contenders for May 2013, based on reviews featured on TechnologyGuide, written by the smartphone experts at Brighthand, the TechnologyGuide Media Group's smartphone news and review site.
1. Google Nexus 4
By far the best feature of the Google Nexus 4 is the price: $300 with absolutely no contract. The smartphone is based on Android 4.2 (Jelly Bean), has a 4.7-inch 768 x 1280-pixel IPS Plus screen, a 1.5GHz quad-core Qualcomm Krait processor with Adreno 320 graphics, and an 8 megapixel back-facing camera.
It has limited data storage and lacks LTE support, but the low and unfettered prices make it a winner, and an excellent option for those that lost or broke a smartphone while stuck in a contract.
Rating: 9.2 out of 10
Read the Google Nexus 4 Review
2. (tie) Samsung Galaxy Note II
It's hard to tell whether this is a small tablet or a very, very large smartphone. Truth be told, it is a smartphone with a 5.5-inch touchscreen 1280 x 720 pixel screen. It also includes a stylus and a collection of stylus-friendly apps, as well as a 1.6GHz quad-core processor and an 8MP camera.
What it doesn't come with is the very large pockets you'll need to carry it. No matter though, once you get used to this "phablet," you'll wonder how you ever used a puny iPhone or regular Android handset before.
Rating: 9.00 out of 10
Read the Samsung Galaxy Note II Review
2. (tie) Apple iPhone 5
The Apple iPhone 5 has a faster processor than its predecessor (the iPhone 4S), a larger screen, 4G LTE support (finally!) and is both thinner and lighter.
So what's not to like? Well… iOS 6 is far from perfect, and the new Lightning adapter is not that big of an upgrade over the old 30-pin. Still, those drawbacks aren't enough to knock the iPhone 5 from the top 5 smartphones for 2013. And it will likely stay there until the next-generation iPhone comes out later this year.
Rating: 9.00 out of 10
Read the Apple iPhone 5 Review
4. HTC One
The Android-powered HTC One is expected to rival the highly-hyped Samsung Galaxy S4 as the best Android smartphone released in 2013. In fact, TG said as much in the review, adding that "the HTC One is the best smartphone HTC has ever created," thanks to its superb design, display, performance, and "innovative software additions."
It's currently available on multiple carriers, but not Verizon, oddly enough. Is it good enough to make Verizon customers switch carriers? Perhaps, especially since Sprint, AT&T, and T-Mobile all have LTE networks.
Rating: 8.80 out of 10
Read the HTC One Review
5: Samsung Galaxy S4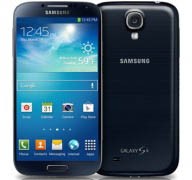 The Samsung Galaxy S4 was hyped as the next greatest Android smartphone, so why is it number five on this list? That may be due to some of its poorly implemented software features and a design that is too similar to the plastic-heavy Galaxy S3.
Still, the Galaxy S4 is neck and neck with the HTC One in the race for the best new Android smartphone, and to that end, the S4 has many strengths, including an excellent display, superb performance, and a replaceable battery (which the HTC One lacks). The S4 is also available on more carriers, including Verizon, so for many, this is the Android smartphone to get by default.
Rating: 8.00 out of 10
Read the Samsung Galaxy S4 Review