What are the Best Tablets?
Tablet sales are surging and eating into the notebook market share for a reason. These once secondary devices are now powerful enough to offer real functionality in terms of both media creation and consumption. With hundreds of thousands of apps and all-day battery life, tablets now serve as notebook replacements, and are often less expensive to boot.
The iPad is still the market king. However, if Google Android is more your style in terms of an operating system platform, then there are a wide range of choices. Microsoft has also recently entered the market with Windows RT, and is already making a dent.
That said, expect this list to change in the coming months. Google is poised to launch its Nexus 7 successor, and the market is overdue for a new iPad, and soon for a new iPad mini. Also, rumor has it that Microsoft will unveil its next-generation Surface tablet in June at its annual Build conference.
But that is then, this is now, and this is a list of the five best tablet devices available right now, based on the reviews featured on TechnologyGuide, written by the experts at TabletPCReview.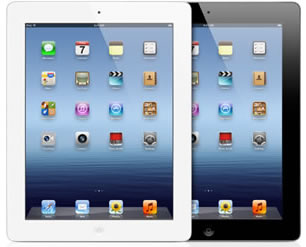 1. Apple iPad (4th Gen)
There is a reason the iPad leads the market. It is simply the best device available. The TG review sums it up nicely: "A faster processor on what already was one of the best tablets out there makes this a first choice for those who are in the market." What more needs to be written?
Rating: 9.00 out of 10
Read the Apple iPad (4th Gen) Review
2. Google Nexus 7
Even though a successor could emerge in the coming months, the Google Nexus 7 is clearly a top choice, not only because it was produced by Google to really flex the Android muscles, but because it is a darn good device. It has a 7-inch display and is based on a fast quad-core processor. It also contains the usual assortment of software in the Google Play store, offering movies, eBooks, and music for sale. Starting at $200, it offers the best mix of price and performance.
Rating: 8.5 out of 10
Read the Google Nexus 7 Review
3. Microsoft Surface RT
The Microsoft Surface RT is distinct because it more resembles a portable notebook than extra-large smartphone in terms of functionality  That's because it runs Windows RT, the new version of Windows designed specifically for ARM, or mobile, processors. On the surface (no pun intended), Windows RT is similar to Windows 8, complete with the Windows 8 tiled interface and traditional desktop, and the Surface RT even ships with a new version of Office. However, the tiled interface, formerly known as "Metro," is the focus, and is very modern, though lacks many apps as it is still very new. The Surface tablet itself sports an amazing build-quality and excellent design, which is why it is still one of the best tablets available, particularly for those looking for more than just Angry Birds and Netflix.
Rating average: 8.20 out of 10
Read the Microsoft Windows RT Review
4. Samsung Galaxy Note 10.1
Samsung found an excellent niche for a unique style of productivity when it debuted its S Pen stylus with the Galaxy Note smartphone. Samsung wisely brought it to a tablet with the Galaxy Note 10.1, a 10.1-inch Android tablet that features great battery life, a solid build, and excellent performance. The pressure sensitive S Pen is a dream come true for furious note-takers and graphic artists looking for precise control, which is not offered on the iPad and other competing tablets.
Rating average: 7.8 out of 10
Read the Samsung Galaxy Note 10.1 Review
5. Apple iPad mini
The Apple iPad mini is basically a 7.9-inch version of the 9.7-inch Apple iPad 2, and that's a good thing, especially for those that are looking for a more portable tablet. The iPad mini is light and impossibly thin, and fills the empty iOS space between the iPad and iPhone in terms of size. Priced $330 at the time of this writing, critics contend that it is too pricey compared with competing 7-inch tablets (the Google Nexus 7, for instance), which is partially why the iPad mini comes in at three on this list. But it's still a quality device, and one that any tablet fan will undoubtedly enjoy.
Rating average: 7.40 out of 10
Read the Apple iPad mini Review