Gary Shapiro: CES Is Bigger Than Ever
As part of CES last week, TechnologyGuide had the opportunity to take part in a special briefing with Gary Shapiro, president and CEO of the Consumer Electronics Association, and the spiritus movens of CES. Along with other colleagues, TG conversed about his opinion on the current state of the consumer electronic market and his thoughts on the larger companies that didn't take part in the trade show as exhibitors.
TechnologyGuide: How would you rate this year's CES, given that smaller companies now seem more prevalent than larger ones, while some of the bigger companies have not even taken part?
Gary Shapiro: I love the fact that walking at the Las Vegas Convention Center you can come across so many start-ups. We have 150 start-ups at the Eureka Park, a special extension of CES where excellent innovators exhibit, and there are plenty more at the central part of the fair. CES is a great opportunity for small companies and I know of many that have started with a small stand at this show and have lived the American dream, created thousands of jobs and now exhibit at large and luxurious stands. You probably won't find spectacular premiers of new devices at CES, which big exhibitors have saved for smaller events, but you will find hundreds and thousands of new products by small companies, some of which will surely define and change our future – for the better.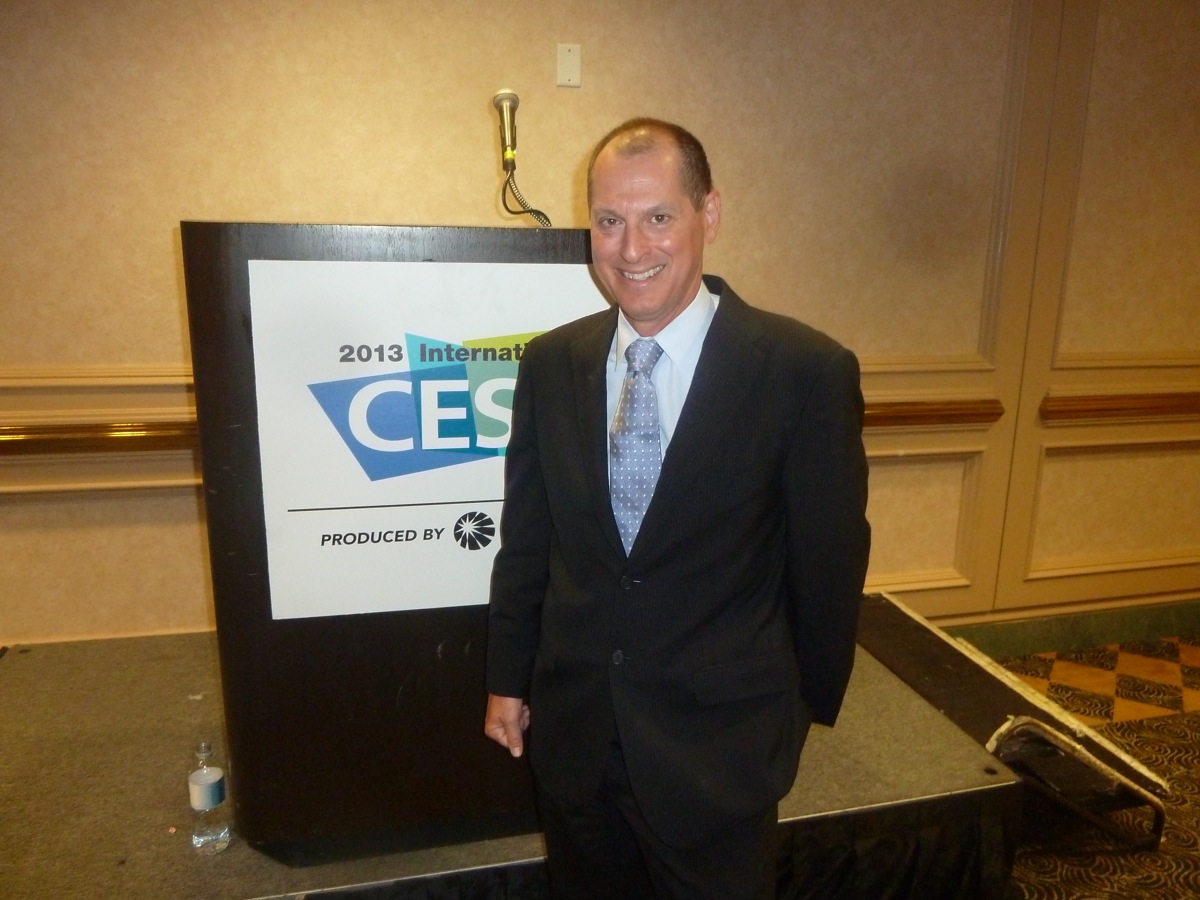 TG: Still, many take it as a great loss that Microsoft, as well as some other big companies, have not taken part this year…
GS: It depends how you define 'taking part'. Many affiliate taking part with exhibiting at the trade part of this show. Microsoft is not among the exhibitors this year, but it is definitely present at the show. Steve Ballmer has taken part in the opening keynote, Microsoft is a sponsor of many events at CES and it is impossible not to come across products linked with the Microsoft eco-system at every corner, especially Windows 8.
TG: Does this mean you are not at odds with Microsoft, as numerous web sites claim?
GS: I haven't noticed this last night when I hugged Steve Ballmer…
TG: However, other big companies are missing as well, ones like Google, Apple, HP…What about them?
GS: Apple has not been participating as an exhibitor at any of the shows for decades. This is simply their policy and clearly, it is working fine for them. This does not mean Apple is not present at CES. I met with many of my friends from Apple these days; they came to Las Vegas solely because of CES. We have a whole pavilion at the show called the iLounge exclusively for companies which are tied to Apple products — about 500 of them. Also, you have to understand that it is logical that those who have nothing to exhibit at CES are not taking part as exhibitors.
TG: There are companies — HP, for instance — that are not here at CES, but are participating in satellite events happening in Las Vegas during CES (Pepcom, Showstoppers, etc). What is your take on them?
GS: This is an excellent question and I would say, above all, an ethical question. You can see for yourselves what kind of a show we are hosting here and you can imagine the effort behind all this and the invested funds. Of course I feel bad when reporters rush from CES to a private event at some hotel in Las Vegas, but there is no way of stopping these companies from doing this. My opinion about such events does not even matter; I think they should be concerned about your opinion about them.
TG: The consumer electronics market has taken a tumble, many companies are losing money, the credit crunch has left a great mark on this sector… Can all of this negatively affect your show by other exhibitors abandoning ship?
GS: I disagree that the market has taken a tumble. Yes, some companies have financial difficulties, but this is a part of the natural market cycle. Look at Panasonic — this may not be the luckiest time for the company, but they have great novelties, an exciting CES performance and are not even thinking about giving up. I am positive about their future, as well as ours.
This is simply how the market works — sometimes you are up, sometimes you are down. Many companies are doing just fine now. If you take a look at Lenovo, you would never say the market has taken a tumble. This year, CES is bigger than ever before, according to the number of occupied squared meters, the number of exhibitors, the number of reporters, visitors… Our biggest problem is how to secure presence for all interested parties in the future, given that we lack exhibition space.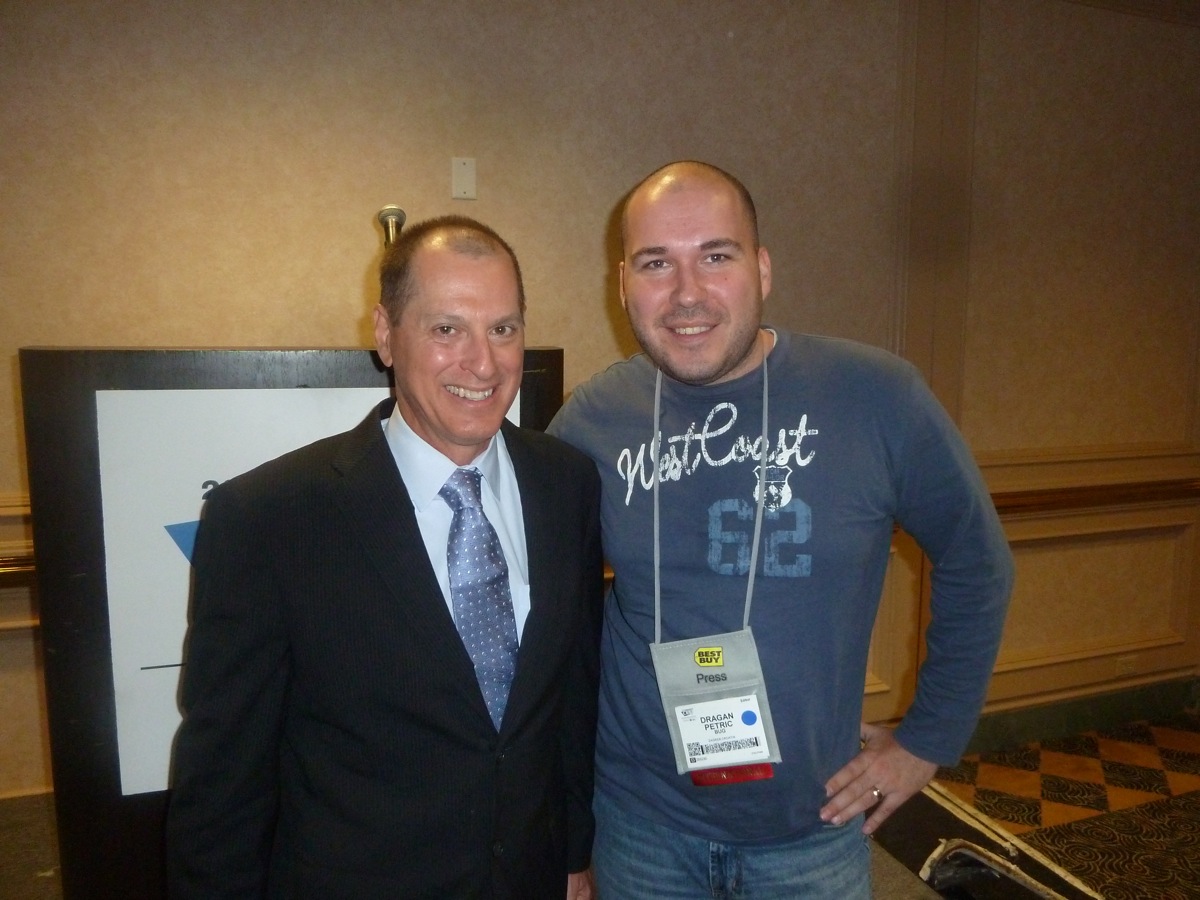 TG: Speaking of Lenovo, Chinese companies have had an excellent presence this year. Are you planning on expanding CES, possibly organizing a trade show at other locations besides the U.S.?
GS: China has become a great technological superpower. It is present here in two ways — whether through companies that are building their own brand, like Lenovo or Huawei, [or] through manufacturers of technologies which offer their services to other brands. We will not be expanding the trade show outside America, but we have various events, especially on European markets, where we organize one-day introductions of companies and their novelties to reporters from the area or region. We organized such events in London and Stockholm not long before CES in Las Vegas.
TG: Clearly, you are a great consumer electronics enthusiast. Given that new display technologies are dominating this year's show — Ultra HD, OLED, Full HD on smartphones, bendable screens, etc. — would you mind telling us how many screens you use privately?
GS: At home, I have a TV set in the dining room and a bigger one in the living area, but, I'm ashamed to admit it, they are almost never on because my wife limits TV time for our 3-year-old. I use several smartphones by various manufacturers and a few tablets by different manufacturers — I can tell you this much and remain fair.



Check out our coverage of the International CES:
Tech Innovation Takes Center Stage in Las Vegas