Leap, Tobii, and the Really Exciting CES 2013 Tech
Tucked away in the corners of the Las Vegas Convention Center, and in small booths and meeting rooms hidden behind the high-profile CES 2013 devices, are the products and components that will have a far greater impact in consumer day-to-day activities than any uber-expensive 4K Ultra HDTV. Judging by the show-floor buzz and media attention, they may only appear as a blip on the CES radar, but they are ultimately the technology that will help revolutionize tech in the very near future.
Intel made a major announcement on the first official day of CES that received little coverage, taking the wraps off its "perceptual computing" project which aims to bring initiative gesture controls to computing, particularly gaming, including facial and voice recognition, as well as eye tracking. Though Intel demoed the motion-control tech with the game Portal 2, and Intel wants to launch the initiative this year, it may still be a while before regular users are navigating Windows 8 with eyes and finger swipes beyond the touchscreen, as this level of change requires not only the appropriate hardware and data processing capabilities, but also software optimized for the experience.
Taking a Leap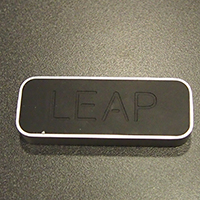 Michael Zagorsek, Leap's Vice President for Product Marketing, explained as much during a private demo of Leap Motion for TechnologyGuide. Leap recently made news thanks to a partnership with Asus computing, and can best be described as a more accurate version of Microsoft Kinect, about 200 times more accurate, according to Leap. It is designed for more precise maneuvering, complete with almost no latency. You move, Leap tracks it. Where Kinect focuses on large, full-body gestures, Leap's technology requires only relatively small-scale hand and finger movements.
The small USB-supported Leap peripheral (pictured) is set to ship to consumers in late Q1 or early Q2 for $70 (Leap reps would not commit to a specific date), but Zagorsek claims Leap is turning to developers to take advantage of the technology. Leap supports open development (unlike Microsoft, which currently suffers from a lack of quality Kinect software, likely because it offered a commercial Kinect SDK almost a year and a half after launching the device in the US), and is hoping the creative community can push the technology. To that end, Leap has seeded 10,000 free units to potential developers.
From the TechnologyGuide demo, it's extremely impressive, as Leap accurately tracks movement down to the tiniest fingertip wiggle and shape along the x, y, and z axis. Leap's claim that it offers the "world's most accurate" motion control is hard to dispute, and it has major potential for graphic designers and image experts, 3D modelers, and gaming enthusiasts. In fact, we played a Jenga clone in the TG demo session, and were able to poke, push, pinch, remove, hold, and ultimately toss virtual blocks from the tower.
Tobii Gaze
Another company to watch for in this space is Tobii, creators of an amazingly accurate eye-tracking technology. The Tobii REX peripheral, powered by Tobii Gaze technology, is a single bar that sits above the keyboard and under the screen, which, after a quick calibration, allows users to control Windows 8 with their eyes and a single button push.
It's astonishingly accurate, and extremely effective. For example, a user can select an email message from a list in Exchange, Outlook, or Gmail simply by looking at it and hitting a key or the touchpad. Want to select another? Simply look and tap the key. It works as if the user dragged the mouse cursor over and left-clicked.
Want to read a long, scrolling message? Hold the key and start reading. The Tobii tech will sense when you hit the bottom of the message and begin slowly scrolling down. Miss something? Look up a bit and the scrolling will stop.
It can't be stressed enough, it's pinpoint accurate and highly intuitive. And Tobii expects to ship its peripheral to consumers by the Fall 2013, with a developer edition now available.
The Future We Were Promised
Neither Leap nor Tobii will replace the tried-and-true keyboard and mouse. But they will augment and complement the experience, just as touchscreens did a few years ago. These technologies are also just plain cool, and are reminiscent of James Bond gadgets and the future tech we were promised by Hollywood sci-fi. They are accessible and will soon be available, and they will open up new possibilities and ultimately change the way we interact with our devices.