LG's Curved OLED TV Lands at Best Buy for $15,000
Well, that was fast. There were whispers earlier today that Samsung's curved OLED TV would be hitting a handful of small US retailers soon, but now LG has gone ahead and made its curved OLED TV the first of its kind to officially be available Stateside.
The Korean tech company is exclusively teaming up with electronics retail giant Best Buy for the launch–the first sets went on sale at a Richfield, Minnesota store earlier today, while Magnolia stores in Los Angeles, New York, Miami, Houston, Dallas, San Francisco, Chicago, Seattle and San Antonio will get theirs "in the coming weeks." LG says that a nationwide rollout will follow over the course of the summer, although it isn't saying just how many sets will be available.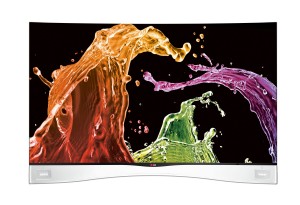 As with Samsung's concave panel, LG's curved OLED set will go for $15,000 at launch. That price will keep it out of reach for most consumers, but this is new technology that LG is naturally positioning as a "premium" experience. Besides its curved 55-inch frame–which, according to LG,"represents a unique design statement for discerning high-end consumers"–the OLED TV's display features the company's WRGB display tech for improved color output. The set is THX Display certified (for whatever that's worth), supports voice and gesture controls, and has smart TV and 3D "capabilities." It's fairly thin and light at 0.17 inches and 37.5 pounds as well.
The set has been available in Korea for some time now, but launching with a major US retailer such as Best Buy (which also started selling 4K TVs recently) should give LG the temporary advantage over Samsung in their OLED battle. Admittedly, that advantage may never be all that significant, as the sets' high costs of entry should severely limit their audience.
But as the TV market slowly moves towards its 4K- and OLED-filled future, LG and Samsung are trying to get ahead of the game and appease the high-end market before all the other TV manufacturers decide to jump in as well. The moves could look wiser in the long run. LG still hasn't given any word on the flat OLED panel it announced months ago, but for now, it can bask in the glory of being the first manufacturer to get an OLED TV onto US shores.
Source: LG (via PRNewswire)