Microsoft Surface Pro to Arrive on February 9
Rejoice, Surface Pro anticipators, the wait is almost over. Microsoft today announced that the hotly-anticipated Windows 8 tablet will be available starting February 9 in the U.S. and Canada. As was expected, both a 64 GB and a 128 GB model will be available, priced at $899 and $999, respectively. Both models will come packed with a "Surface pen" stylus, but neither will include one of the tablet's compatible Touch or Type Cover keyboards. Those will still have to be bought on their own for $120 and $130, respectively.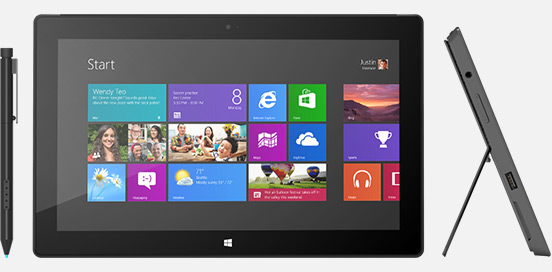 The Surface Pro runs full Windows 8 — unlike its previously released little brother, the Surface RT — and sports an Intel Core i5 processor, 4 GB of RAM, two 720p webcams, a USB 3.0 slot, 802.11 a/b/g/n Wi-Fi, and a 1920 x 1080 display. It's 0.53 inches thick, weighs two pounds, and has about five hours of battery life as well.
In other words, it's got enough horsepower to be Microsoft's stab at bridging the gap between tablet and Ultrabook (especially when combined with a keyboard), and provide the best of both worlds. Whether or not it will actually do that is a different story, especially considering its price relative to other tablets, but there can be no doubt that Microsoft is putting a lot of faith (and advertising dollars) into its newest machine.
That wasn't Microsoft's only announcement of the day, however. It also revealed that it will start selling a 64 GB standalone version of the aforementioned Surface RT for $599, which is $100 down from the current Surface RT + Touch Cover bundle. That offer begins on February 9 too. New color Touch Covers (red, magenta, and cyan) and a new Wedge Touch Mouse (for $70) were unveiled as well.