Toshiba Rolls Out First 4K Ultra HDTV of CES 2013, And it Sure Looks Pretty
Leading up to CES 2013, we knew that 4K HDTVs, or Ultra HDTVs, would be a main focus in Vegas. And though Westinghouse jumped the CES gun by teasing a 4K HDTV earlier in the week, Toshiba showed off the first official 4K HDTV by announcing the L9300 series.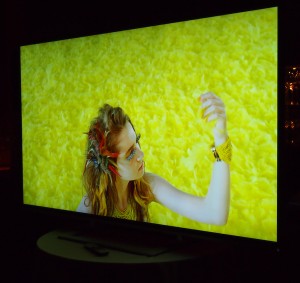 Just a day before the official CES "press day," where the big guns typically make their major unveilings, Toshiba took the wraps off 58-, 65-, and 84-inch 4K LED HDTVs, while proudly displaying the 84-inch set. Details are sparse at this point (an official press release is set for Monday morning), but we do know these 4K HDTVs will sport what Toshiba is calling "Cloud TV," which encompasses Wi-Fi connectivity, Miracast, photo albums, Skype, calendar and messaging apps, and perhaps streaming apps like Netflix and Amazon Prime Instant in the near future.
Upscaling
The new 4K HDTVs will also look to solve the 4K content problem (as in, there is little to no programming available at the 4K resolution) via its CEVO 4K quad and dual core processor, which will upscale standard 1080 HDTV content to 4K resolution. For those that remember CES 2010, this CEVO processor shares a name with the same that powered Toshiba's Cell TV, arguably the coolest vaporware of all time. Toshiba reps claimed CEVO and Toshiba's upscaling technology is what sets Toshiba apart from the competition.
We'll see what Panasonic, Sony, Samsung, LG and the other HDTV makers at CES 2013 have to say about that later in the week.
Eyes On
4K content looks gorgeous. Toshiba's 84-inch set was drool worthy. The content almost looks 3D… natural 3D… not the blurry and dim stuff of so many awful Hollywood flicks. Of course, this was 4k on an 84-inch LED HDTV shot and calibrated specifically looks gorgeous, but it was a fine example of the promise of 4K.
So how much will this 4K HDTV cost? Toshiba was silent on that. However, other 84-inch 4K HDTVs have topped $25,000, and smaller Toshiba Ultra HDTVs shipped for approximately $10,000 overseas. So, you might want to wait a while before clearing off the wall space.
Media Boxes
Home theater junkies on a budget can still experience Toshiba's Cloud TV, as the company also announced slick new Blu-Ray players that bring much of the same functionality, essentially turning any HDTV into a smart TV.