Windows Gains Market Share, Now On 91.7% of Desktops
At this point, it's no secret that the adoption rate of Microsoft's new Windows 8 operating system has been a bit…sluggish. According to the latest data from Net Applications, however, Microsoft's family of Windows OS still dominate desktops worldwide, and even saw a net gain in overall market share last month.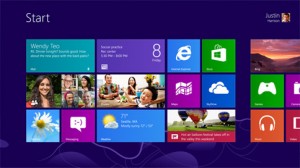 Net Applications' newest figures — which are obtained from millions of users by monitoring about 40,000 websites — reveal that Windows as a whole controlled 91.74% of worldwide desktop OS market share last month, up 0.29 percentage points from November. This marks the first time in six months that Windows' market share has increased.
Within the Windows series of operating systems, Windows 7 took 45.11% of the market, while Windows XP continued its decline below the 40% mark, now down 0.74 points to 39.08%. Windows Vista dropped slightly to 5.67%, and all pre-XP Windows OS are down to 0.11%.
As for Windows 8, it too saw an increase, jumping 0.61 percentage points from 1.11% to 1.72%. While that's not an enormous leap, it appears that the holiday season did Microsoft some good, as the company can finally say that its new OS has gained some traction as of late. This past August, both Windows 7 and Windows XP controlled about 46% of all Windows' usage a piece, according to Net Applications, so the launch of the Windows 8 has made at least some visible dent in those figures.
Naturally, Windows' gains came at the expense of its primary competitors, namely Mac OS X and Linux. The collection of Mac OS X operating systems dipped 0.23 percentage points to 7.07% market share, while Linux sank a slight 0.06 points to 1.19%.
Source: Net Applications