Samsung Galaxy Tab 2 10.1 Review: A Sequel Slightly Better than the Original
You would think the sequel to what was one of the best Android tablets of 2011, the Samsung Galaxy Tab 10.1, would be a major upgrade over its predecessor. And you'd be wrong, as the Samsung Galaxy Tab 2 10.1 is actually a minor upgrade over the original, with a similar spec sheet to the 2011 edition, sporting a slight redesign.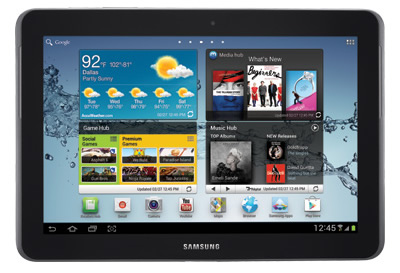 Let's start with the good. The redesign is a welcome change as it sports two front-facing speakers, whereas the original and too many other tablets have rear- or side-firing speakers, which direct sound away from the user. Also welcomed is Android Ice Cream Sandwich (4.0). It's a huge upgrade over Android Honeycomb (3.x) and is both zippier and more stable. I really dig the IR blaster, too. It turns the Tab 2 10.1 into a universal remote. Finally, the Tab 2 10.1 has expandable memory via microSD.
I'm torn on the $400 launch price however. It's cheaper than a third-generation iPad, and it should be because it's not as powerful. But it's $150 more expensive than the Samsung Galaxy Tab 2 7-inch, which offers the same experience with a smaller screen. It's also the same price as the iPad 2 (16GB, Wi-Fi), which might be a better choice for some users already tied into the iOS ecosystem.
As for the bad… the Samsung Galaxy Tab 2 10.1 may have great speaker placement, but they emit lousy sound. Also the tablet is a bit buggy out of the box, no doubt the result of its preloaded crap-ware and Samsung widgets. That can be fixed with a little user tweaking, but it's still annoying. Also, the 2011 specs disappoint, especially considering Samsung pushed Android tablets last year and is seemingly settling for the mid-range in 2012.
Overall, the Tab 2 10.1 is a good tablet, but there are great alternatives on the market for the same price or less. Hunt around before buying, and if you can score a good deal on a Tab 2 10.1, it's worth it.